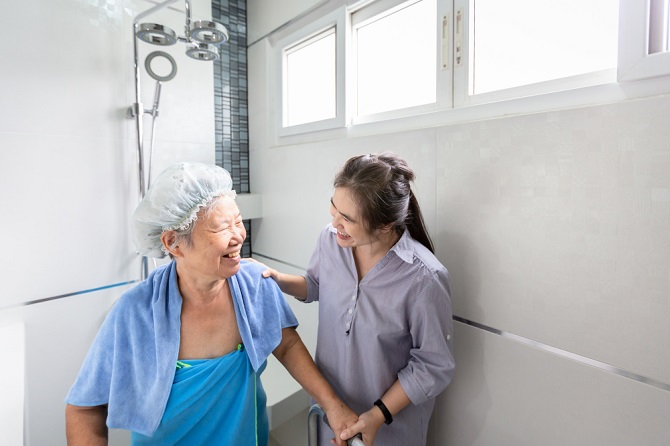 Hard surfaces, slippery flooring, and sharp countertop corners can make the bathroom an unsafe space for seniors to experience a fall. For our elders, several factors can cause falls, and one bad fall can have devastating effects on their health and quality of life. Hence, home safety evaluations and adjustments need to be made to increase bathroom safety.
As a leading provider of home care services in Vermont, we will share tips on how to increase senior safety in the bathroom:
Reduce clutter.

Keep the bathroom tidy by removing any unnecessary clutter. The bathroom floor should be free of clothing and other objects that might cause a senior to slip, such as throw rugs. Countertops should also be kept clear by storing unused items.

Keep necessities within reach.

Seniors should be able to reach the bathroom items they need without having to bend or stretch. A shower caddy can be installed to make it easier for them to reach for bathroom products.

Install grab bars.

Grab bars in the shower or bathtub can make it easier for seniors to get in and out. They can use them as support in a slippery bathroom and leverage the device for balance and stability as they go about their hygiene routines.

Seek additional help.

A provider of home care in Vermont can provide hands-on assistance in the bathroom to increase comfort and safety for seniors. An in-home caregiver can help with tasks like bathing, grooming, dressing, and toileting to avoid slips and falls.
We at Hope Home Care Services specialize in providing exceptional senior care in Vermont. From respite care to personal care assistance, reach out to us to learn more information about our in-home services.