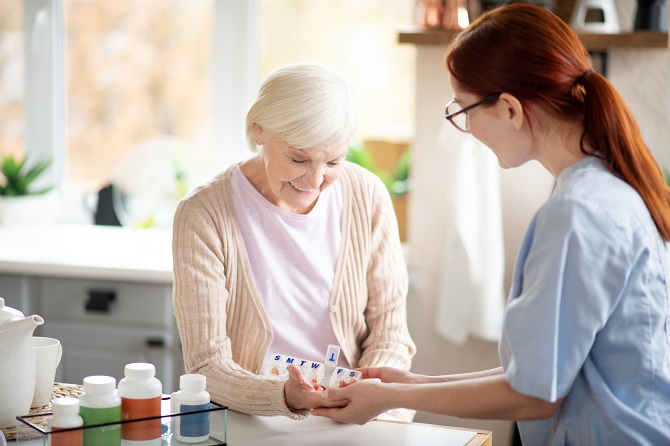 Most seniors have medications to take for their varying medical conditions. As a provider of Senior Care in Vermont, we want to help you make sure of your loved one's medication adherence. Here are some of our suggestions to help your loved ones not miss their dose:
Establish a routine

Incorporating the medications into your loved one's everyday routine will help them to remember to take their medications on time. They can take their meds before or after mealtimes or after brushing their teeth. Our professional caregivers can also help integrate taking medications into your loved one's regular routine as part of our medication assistance services.

Use a pillbox

Another effective way is to use a pillbox with compartments for each day of the week. This can be a visual reminder to your loved ones to take their meds every day and avoid double doses. As part of our Care Services, our caregivers can help your loved ones refill their pillboxes and assist in taking their medications.

Post a reminder note

Make a reminder note of the medication schedule and make it visible. You may post it on an easy-to-spot places such as the refrigerator or bathroom mirror. As a provider of Home Care in Vermont, we can assist in making your loved one's medication schedule and post it in place that will be seen every day in your home.
Hope Home Care Services is a dependable provider of Home Care Services in Vermont. We specialize in senior care and your loved one's safety and comfort are always our priority. For more information about our services, contact us by calling 802-234-4000 or emailing us at info@hopehomecarevt.com.